Český Krumlov Castle - Tour no. 2
Princess Paulina of Ahrenberg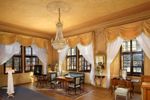 Tour no. 2 consists of the 19th century interiors and focuses on the period when Krumlov was held by the Schwarzenbergs. The tour begins in the gallery where you can see portraits of family members who lived from the 14th century to the early 20th century. The guest rooms follow, one of which is dedicated to the Belgian Princess Paulina of Ahrenberg. The Belgian Duchess Paulina Carolina Iris of Ahrenberg and Aerschot died in a fire at a ball in Paris in 1810. When the wooden dance pavilion caught fire from overturned candles in the garden of the Austrian Embassy, Emperor Napoleon, his entourage, and the Duchess came out of the burning hall safely. But Paulina saw her daughter imprisoned among the dancers in the room, returned to her, and this was her fateful moment.
Men's Parlour, music parlour, Marshall room and suites - Český Krumlov Castle
There is a nice collection of 114 engravings in the Men's Parlour. An interesting item is the hammer piano, still functional, from the early 19th century in the music parlour. In the other rooms you can admire the heraldic tapestries from the extensive Schwarzenberg collection of tapestries. The Marshall room is dedicated to Charles I Philip of Schwarzenberg and the victory over Napoleon in the famous Battle of Leipzig in 1810. The suite, originally inhabited by Johann Adolf II. Schwarzenberg and his wife Eleonore, still holds its original furnishings. It leads into the library which, with its collection of 55 thousand volumes, is one of the largest in the country. It is decorated with portraits of several members of the Schwarzenberg family.
Suites of Princess Eleonore and castle picture gallery - Český Krumlov Castle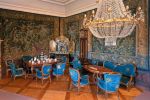 The tour also passes through the small dining room into the private suites of Princess Eleonore. Her study and bedroom are decorated with many rare Dutch and Brussels tapestries. The tour finishes in the castle picture gallery which houses a collection of canvases painted by German, Italian, Flemish and Dutch masters. The gallery doors lead into the top of two corridors above the Cloak Bridge. The corridor leads to the castle garden, and its walls bear rare historical maps of European countries. The second and lower hallway leads to the Castle Theatre, which is the subject of another guided tour.
II. guided tour - hours of opening:
Hours of opening (Tuesday - Sunday):
date
open
last tour
01.04. - 31.05.
09:00 - 17:00
16:00
01.06. - 31.08.
09:00 - 18:00
17:00
01.09. - 31.10.
09:00 - 17:00
16:00
A guided tour lasts 50-55 minutes
Guided tour: Czech, German, English
Lending of reading material available: Czech, German, English, French, Italian, Spanish, Russian, Dutch
Number of visitors per guided tour: max. 25
Possibility of reservation for groups from 8 persons
II. guided tour - price list:
Admission in the official visiting time (CZK)
Tour
Czech commentary / foreign language commentary / own guide translation
Full
Reduced
Family admission
Children, students, invalids
Seniors
II. guided tour
130 / 240 / 180
60 / 140 / 100
80 / 180 / 130
300 / 500 / -
children up to 6 years - free entrance
groups of children up to 6 years - charged a price Kc 20,- / child
reduced tour price for students - only for students up to 26 years
booking fee = Kc 10,-/person
reduced tour price for seniors - only for seniors over 65 years
rezervační poplatek 10,- Kč za osobu
reduced tour price for groups from 20 persons - full tour price - 10%
tour leader for free for groups from 20 persons
extraordinary admission (out of the common visiting time) = full tour price + 100%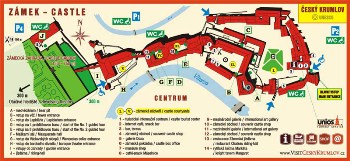 Map of the Český Krumlov Castle /pdf/