Český Krumlov - town history till 1622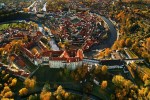 The ideally situated high location above the river Vltava was probably inhabited at the turn of the older and younger Bronze Age. It is possible that there was a smaller settlement here. It is certain, though, that the Lords of Krumlov, one of the branches of the Vítkovec family, based their Gothic castle at this site in the first half of the 13th century. It was first mentioned in writing in 1253. The Gothic castle was equipped with a cylindrical tower and located on the site of today's Hrádek, or "Little Castle".
The founder of the House of Vítkovec was Vítek I of Prčice in Sedlčany who came to South Bohemia in the 12th century. This nobleman served the important function of steward to King Vladislav II. He gradually acquired considerable property in South Bohemia and before his death (1194) divided it among his five sons. This pseudo-mythical event is captured in the famous painting of The Division of the Rose, a copy of which can be seen in the castle.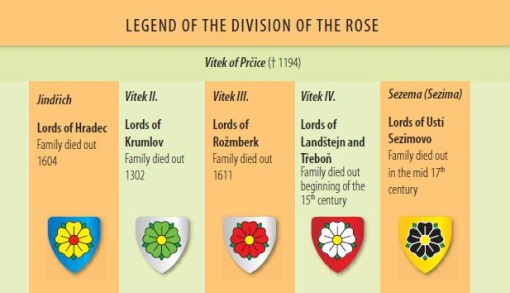 The Krumlov Vítkovec descendants died out in 1302, and the town should normally have been accrued to the king Václav II, however, gave it to the other members of this family, the Rožmberks. They then transferred their headquarters from the slightly out-of-the-way location in Rožmberk castle to Český Krumlov and proceeded to become one of the most powerful families in the country, managing their dominion from here for nearly 300 years.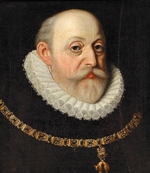 The castle, town and all of South Bohemia reached its period of greatest prosperity especially during the reign of Vilém of Rožmberk. This is when the former Gothic stronghold began to acquire the appearance of a castle.
Vilém's increasing demands on representation gradually led the dominion into debt. Vilém's younger brother, also the last Rožmberk, Petr Vok, managed to avert approaching bankruptcy in 1601 by selling Český Krumlov to Emperor Rudolf II of Habsburg. No member of the Habsburgs, however, ever resided at the castle. From 1612-1619 the owner of the estate was Rudolph's younger brother Matthias of Habsburg.