Castle Museum - Český Krumlov Castle
The Castle Museum, which opened on 11 January 2011, is located in the renovated premises of the Hrádek on the 2nd courtyard. There are 29 rooms set aside for individual exploration. The rooms' interiors are furnished in the style of the 19th century, including historical lighting fixtures and original tile stoves.
The "Hall of the Lords of the Rose" and "Hall of the Dukes of Krumlov" are dedicated to the several aristocratic families who previously owned the Krumlov dominion. The faithfully renovated office of former senior officials is shown by the office of the Schwarzenberg administrative director, estate director, and others.
The armory, as well as the mint with its unique Eggenberg minting machines, is well worth the visit.
The exhibition is supplemented by attractive exhibits from the castle depositories, such as the reliquary with the skeleton of St. Reparat or the model of the castle as it looked in the mid-16th century. The cinema at the end of the tour shows footage from Schwarzenberg family films from the beginning of the 20th century.
Castle Museum - hours of opening:
hours of opening:
date
open
01.01. - 31.03.
Thu - Sun, 09:00 - 16:00
01.04. - 30.06.
Mon - Sun, 09:00 - 17:00
01.07. - 31.08.
Mon - Sun, 09:00 - 18:00
01.09. - 31.10.
Mon - Sun, 09:00 - 17:00
01.11. - 31.12.
Thu - Sun, 09:00 - 16:00
Tours are without a guide.
Castle Museum - price list:
Admission in the official visiting time (CZK)
Tour
Tours are without a guide
Full
Reduced
Family admission
Children, students, invalids
Seniors
Castle Museum
100
50
70
220
Castle Museum + Castle Tower
130
60
80
270
children up to 6 years - free entrance
groups of children up to 6 years - charged a price Kc 20,- / child
reduced tour price for students - only for students up to 26 years
reduced tour price for seniors - only for seniors over 65 years
booking fee = Kc 10,-/person
reduced tour price for groups from 20 persons - full tour price - 10%
tour leader for free for groups from 25 persons
extraordinary admission (out of the common visiting time) = full tour price + 100%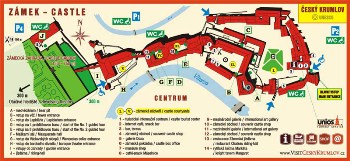 Map of the Český Krumlov Castle /pdf/
Castle Museum - Český Krumlov Castle
Popiska fotografie bude načtena při otevření okna
‹
›
×