Český Krumlov Castle - Castle Garden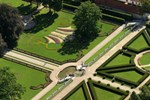 To the west of the castle, on a slight hill above the 5th courtyard, is the castle garden with an area of more than 11 hectares (rectangular-shaped with dimensions of 150 × 765 m). There are two access roads leading to it from the gatehouse. The path leading up on the left brings you to the main gate of the garden, while the right path first leads you to the great Winter Riding School. This was built in 1745 and served for equestrian training during bad weather. The Riding School today functions as a social hall and restaurant. Next to the winter riding school there are two smaller enclosed terraces. The lower one was designated as the orchard and fulfilled the role of private gardens for the castle lords – it was also known as the Royal Garden. Above it leads a passage through which the nobility could walk undisturbed to the castle garden from inside the castle. The higher terraces were used as a summer riding school. Above these terraces, the Lower Parterre spreads out, accounting for nearly half the area of the castle garden. It is decorated by flower beds shaped into Rococo ornaments, with several massive oaks and beeches.
Approximately in the center of the garden, on the boundary between the Lower Parterre and the higherpositioned Upper Garden, stands the rococo Neptune Fountain, built during modifications in 1750. It consists of four levels of cascades decorated with sculptures of sea deities, allegories of the seasons and various aquatic animals.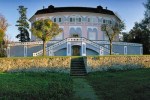 The character of the Upper Garden is somewhat reminiscent of a landscaped park, in some places almost like a forest. It was composed as Baroque as corresponds to its layout, which agrees with the garden's layout map from 1750. The axis of the area is formed by a path from the fountain to the castle pond at the farthest end of the garden. The path passes by the renowned (and much disputed) revolving auditorium. This auditorium is located near the architecturally valuable Bellarie Summer House, the current form of which comes from a Rococo reconstruction from the latter 18th century. The Summer House is also known for its artificial grotto as well as its "magic table" – a special lift that brought food from the kitchen to the noble rooms upstairs.
The first revolving auditorium, built in 1958, had a capacity of only 60 seats. Its great success soon led to the construction of a larger auditorium for 400 persons, moved by 40 soldiers hidden inside the body. Later reconstructions further increased the capacity; today it holds 658 viewers. It's worth noting that the author of the first auditorium, architect Joan Brems (1907– 1995), distanced himself from the present auditorium.
Castle Garden - opening hours:
Opening hours (Mon-Sun):
Date
Open
01.04. - 30.04.
08:00 - 17:00
01.05. - 30.09.
09:00 - 19:00
01.10. - 31.10.
08:00 - 17:00
Castle Garden - Price list:
FREE ADMISSION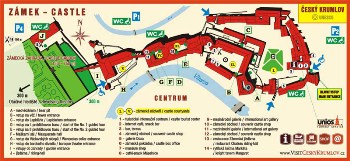 The Český Krumlov Castle and Chateau - Map /pdf/