Castle Baroque Theatre Český Krumlov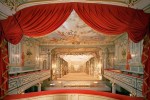 The theatre building on the 5th courtyard of the castle was built between 1680–1682 by Johann Christian I of Eggenberg (1641 to 1710), a great patron of the arts. From 1765–1766, Josef Adam of Schwarzenberg (1722–1782) had it reconstructed into a modern theatre and equipped with new decorations and advanced technical equipment.
Given that the theatre was not subject to further reconstructions or modernizations in the later centuries, this Baroque scene has been preserved in its original form from the mid-18th century to the present. Nonetheless, the uniqueness of the Český Krumlov Castle Theatre is not in its age or rich equipment, but primarily in its authenticity and integrity. In this regard, the Český Krumlov can only be compared to the Swedish Royal Theatre in Drottningholm.
It's not only the theatre building with its stage and auditorium that have remained perfectly preserved, but also the stage scenery, hundreds of costumes and props, and the complete machinery for replacing the scenes. There are also approximately 2,400 volumes of various texts that have survived – scripts, librettos, partitures and scores. Also remarkable is the stage equipment for imitating sounds of a storm, the wind and so on.
Castle Theatre Český Krumlov - hours of opening:
Hours of opening (Tuesday - Sunday):
date
open
last tour
01.05. - 31.10.
10:00 - 16:00
15:00
Guided tour: Czech, German, English
Number of visitors per guided tour: max. 20
Possibility of reservation for groups from 8 persons
Castle Theatre Český Krumlov - price list:
Admission in the official visiting time (CZK)
Tour
Czech commentary / foreign language commentary / own guide translation
Full
Reduced
Family admission
Children, students, invalids
Seniors
Castle Theatre
200 / 300 / 250
130 / 200 / 150
160 / 250 / 200
490 / 740 / -
children up to 6 years - free entrance
groups of children up to 6 years - charged a price Kc 20,- / child
reduced tour price for students - only for students up to 26 years
reduced tour price for seniors - only for seniors over 65 years
booking fee = Kc 10,-/person
reduced tour price for groups from 20 persons - full tour price - 10%
tour leader for free for groups from 20 persons
extraordinary admission (out of the common visiting time) = full tour price + 100%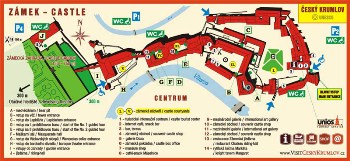 Map of the Český Krumlov Castle /pdf/